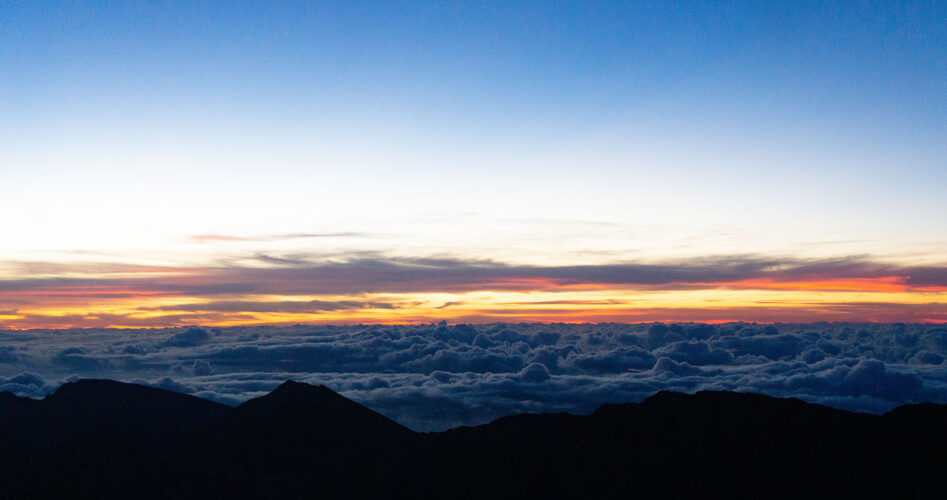 Out in the middle of the Pacific, 10k feet above sea level, you'll find one of the greatest places to watch the sun rise and set. It's a bit of a drive, but a beautiful one at that. If you're planning on visiting Maui, then this is a must do, but make sure you plan far in advance because it's not just open for anyone to do and will take some preparations.
Plan ahead
If this is something you are definitely going to do, then get on over to the National Parks website and request a reservation as soon as possible. Reservations only cost $1.50/day/vehicle, but are very limited. 60 days prior to any date, reservations go on sale and may sell out within a week at peak times, or a few weeks other times. A few extra reservations are available just 24 hours prior to going, but I don't suggest counting on that if at all possible. Once you get there, there is also a $30 fee per vehicle to get in to the park. Most of the reservations seem to be taken up by tours given which will could cost you 10 times more than driving yourself.

Also, if the Sunrise is happening at 6:00am, be there no later than 5:30am as the best viewing and colors happens prior to the sun breaking through the horizon. People start arriving hours ahead of time, so the earlier you get there, the better chance you have at landing the perfect viewing spot.

Pack warm clothes
You may be in the tropics, but at 10k feet it's going to be cold. Even during the summer, expect the temps to be in the 40's (f). A blanket, or pants and jacket is definitely necessary. The wind can also be a factor so be prepared. The temperature change from the summit to sea level can be drastic, so dress in layers to be properly prepared for a full day.
Relax and enjoy the sunrise!
Don't be in a rush to leave once the sun does come up. The view from the summit is spectacular and constantly changing over the next hour or so. There is also a visitor center/observatory that you should check out. Considering you can see half of Maui on a clear day, the view is something you'll want to soak up and enjoy.
Tip: watch out for people biking down the mountain. This is an excursion many swear by, but it's also dangerous as people get hurt often.
If you have any other questions, feel free to comment below. And as always, check us out on Instagram for more pictures and video of our adventure to Haleakala and other cool adventures around the world.