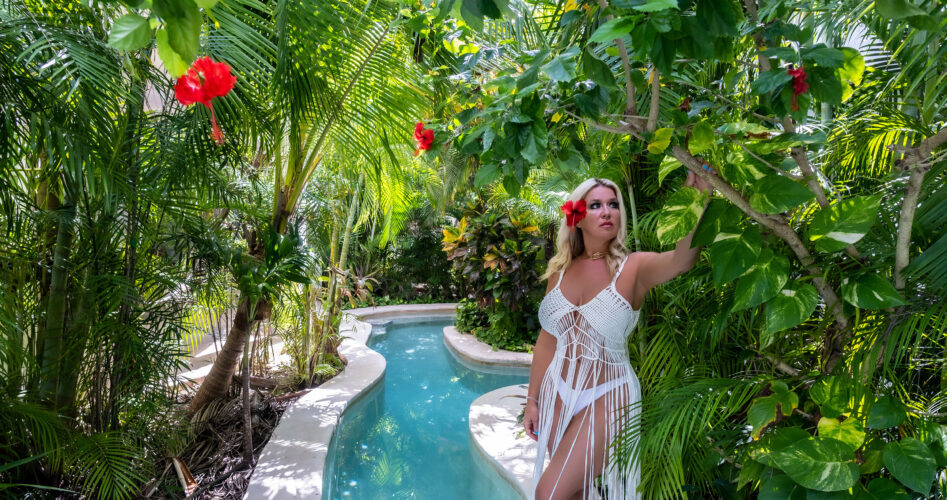 As a couple who travel solely to locations and resorts that cater to adult-only atmosphere's, it seemed to be only a matter of a time till we tried checking out a clothing optional resort. Enter Intima, a boutique resort in the heart of Tulum that separates itself from the competition by only allowing adults to stay and giving them the option to dress or undress as they see fit. So what can you expect when you stay here? Read on and we'll share everything there is to know about this hidden paradise in Tulum.
Getting there
Unfortunately, there isn't an airport in Tulum. The closest place you can fly is in to Cancun, which is about 80 miles (130km) from Tulum. This begs the question, but how do I get there? Our method of choice is to rent a vehicle in Cancun and drive down. Car rentals are relatively affordable and this gives you the most flexibility to do things on your vacation, though we understand not everyone likes to drive in foreign countries. You can take a bus or get a private transfer to take you directly to Intima as well. If you choose this route, then you will be needing to use taxis while in Tulum, or you can walk to parts of the city or even use bicycles that Intima will lend to you free of charge.
Location
There are two main areas in Tulum. The main city and the beach road. Intima is located in the main city, which is closer to affordable shopping and dining. There's also plenty of convenience stores and grocery stores nearby. The biggest benefit to staying in the city is the price. Everything from food, to shopping to your stay at Intima are very reasonable and sometimes downright cheap. Staying on the beach road can be very costly, but come with the convenience of being on the beach. Utilities aren't quite up to par though on the beach road and many places don't have air conditioning, or cut power off during the night. There isn't proper infrastructure there so much of it is run off of generators.
When you get to Intima , the last 100 feet can make you second guess where you're going. Unfortunately, the last part of the road could use a bit of work and is full of potholes. If Intima could fix one thing about their place, my suggestion would be to get this "driveway" fixed.
Rooms
First, Intima is very secure and safe. The entire complex has a wall around it keeping onlookers out. When you first walk in it's hard not to take notice of the pool. Immediately you're looking at the main pool along with the swim up bar. This isn't your average pool though as it snaked off in 4 different directions into what looks like rivers that connect to the rooms. This brings us to the actually rooms…
1st Floor – Every room on the first floor is a swim up room, but not your average swim up . When you walk out onto your back porch, you're walking into what feels like a rainforest and can just step in to your own pool cove. Your cove then connects to a river that eventually will take you out to the main pool. Every room is both connected, but completely private.
2nd Floor – The rooms on the second floor are the same as the first floor but instead of having a swim up cove, they include a hot tub on the porch. For those wanting complete privacy and a hot tub, these rooms are for you, but there's one that's even better, the penthouse.
Penthouse – Identical to the 2nd floor rooms with a hot tub on the porch, one added benefit to these rooms is that they have a stair case that leads to the roof and a private pool.
The studio suites are standard suites with a mini fridge and all one main room, but get a junior or master villa and you'll get your own bedroom, plus living room and full kitchen. There is also the option to combine the two and have a 2 bedroom master villa.
Based on our time there, we prefer the penthouse suite followed by a swim up villa.
Food/Drinks
Intima isn't all-inclusive, but to be fair, there aren't any all-inclusive resorts in Tulum. If that's what you're looking for, you may want to stay closer to Cancun. There is a restaurant/bar there called Passions though. If you book your trip directly with Intima , they will include made-to-order breakfast with your reservation which alone is completely worth it. They do offer an all-inclusive/full board add on if that's really what you're looking for. If you plan on staying there the entire time, then this may be a good idea for you. I do have to say though that the food at Passions is amazing. We've stayed in other nearby resorts that don't compare. Everything was fresh and cooked exactly as we asked. Even the drinks where incredible. Our favorite waiter, Joe, took the time to make us some fantastic drinks, both with and without alcohol that we're still craving now that we've made it home.
The best part though is that you don't have to eat everything here. There are some great places to eat within walking distance or a short bike ride. Pasha has some great Turkish food, or La Hydra by Gigi up the road has amazing pizza.
About our trip
So, besides the facts, how do we really feel about Intima ? On this last trip we felt like we owned the entire place. It was down season and to say Intima was Intimate would be an understatement. This place truly is intimate and we felt very relaxed and comfortable. We stayed at another all-inclusive high end resort after staying here and wish we were back at Intima . There really isn't anywhere else we've stayed quite like this and we highly recommend trying it.
About the clothing optional aspect part, we didn't even really we were naked half of the time. No one bothered us, no one stared, though hardly anyone was there. We could simply roll out of bed in the morning, walk outside and jump in the pool without ever having to even think about what to wear. And let's be honest, we didn't have much laundry to do when we returned home! There's no feeling like skinny dipping and blending those tan lines away is always a plus.