It's that time of year again. The sun is shining, the water is warm and the beaches are crowded. This winter seems to never want to end, so our only option is to head to a warmer place and enjoy the sun there. Miami beach is a popular destination as it's easy to get to, but can sometimes be costly to actually stay there. Luckily there are other options such as the Ocean Surf Hotel on the northern side of Miami Beach. This hotel has fairly poor reviews on most of the web, but they've been working hard to change that. The hotel has recently undergone a complete renovation, updating all of their rooms. This isn't a mega resort and doesn't even have a pool, but who really needs a pool when the beach is 100 feet away?
Versace, Versace..
If this hotel looks familiar, it is probably because you've watch the tv series "The Assassination of Gianni Versace". This show was shot partially in front of the hotel and on the beach there to recreate what happened as accurately as possible. During our stay, people would occasionally stop in front of the hotel just to get pictures as a result.
The Penthouse
The rooms at Ocean Surf include your basic single/double room, 4 balcony rooms and one penthouse suite. For the sake of our review, we will be reviewing this based on the Penthouse suite, as that's where we stayed. If available, I highly recommend the penthouse. This room has been recently renovated as the pictures on their own website don't reflect the changes. Our attempt to check in early was denied because they were just finishing up the renovations, so we were either the first ones or one of the first ones to stay there after the changes. This isn't a 5 star suite that you may be thinking of, but it is very large, includes a mini fridge, table and chairs for eating, couch, king bed and plenty of space. You have the entire 4th floor to yourself, which is pretty cool, and you have a nice balcony with a great view of the beach and surrounding areas. You can actually watch the sun rise and set from the same balcony as there is nothing to block your view. The lower balcony rooms will still have a great view of the sunrise, but not the sunset.
Getting around/Parking
Most of what you could ever need is within walking distance. On the same block includes a couple convenience stores, CVS, Walgreen's, a vegan bakery (a must), a boutique, and a few other places to eat. If you do have a vehicle, you don't have to worry about the crazy $35/day fee to park it as there are numerous parking spots on the street and in the parking lot next to the hotel that only cost $1/hour for ten hours/day. So the most you could have to pay is $10/day. Overnight, parking is free, so if you're done during the day you may never have to pay to park. We found that they weren't too serious about ticketing for parking as we'd wake up an hour or so after paid parking started and wouldn't pay until then. You can use an app on your phone to manage your parking.
The Beach
All you have to do is cross the street. In addition to that, the hotel will give you beach chairs and towels free of charge. Everything you need to relax and enjoy the day are at your finger tips. The beach in front of the hotel is similar to the rest of Miami Beach. But, it isn't nearly as crazy or packed as south beach. This is more of a great place to go and relax.
Everything Else
There was little to complain about except that the hotel doesn't have an ice machine (though you can get ice next door) and the rooms didn't have a coffee maker. There's nothing worse then not having that first cup of coffee in the morning and we feel that including those in the rooms would be a great addition.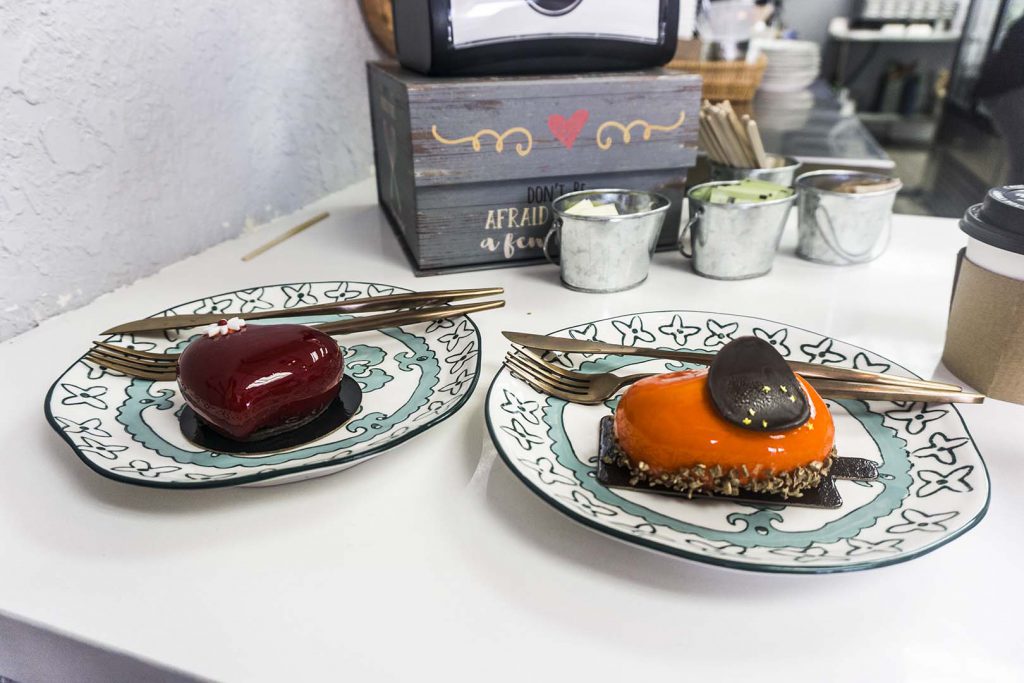 Miami isn't the most affordable place to stay, especially on the beach. So, if you're looking for a place to stay with some history, that's affordable and convenient, the Ocean Surf hotel is definitely worth a look.
As always you can find more pictures over on our feed in Instagram. Follow us to get all of our updates.