Thank you hurricane Irma for making us have to extend our trip. With our return flight cancelled due to the Ft. Lauderdale airport being closed, we had no choice to be extend our trip. Excited to see more of Costa Rica we quickly decided on heading down to Quepos with the intention of seeing Manuel Antonio Park, more wild life and beaches. Excited to try something new out, we hopped on booking.com and found Hotel Villas Nicolas for a great price. We didn't stay long, but still enjoyed every minute we had there.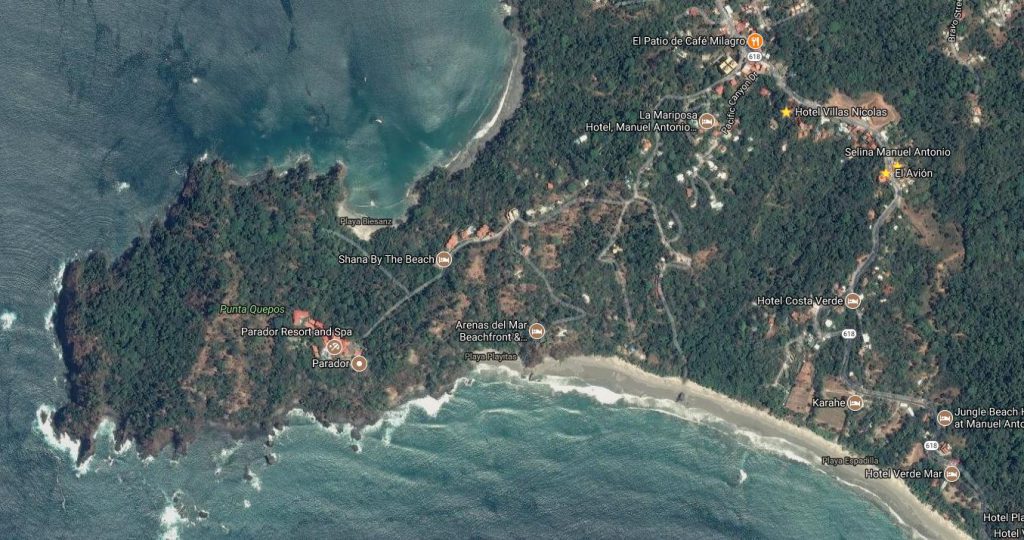 About Hotel Villas Nicolas
This is a hotel situated in Quepos, Costa Rica, that caters to adults only, a feature we tend to always look for. The villas are on the top of the mountainous terrain that overlooks the beaches. Our view was amazing, set with our own hammock and private porch. The room wasn't that large, but had everything anyone could need for their stay. Included with your stay is a cooked to order breakfast that doesn't disappoint. The hotel is also on the bus route for Quepos and Manuel Antonio, so you can get just about anywhere for a small fee.
We were also lucky enough to see some white-faced monkeys running across our view in the morning. The sounds of the rain forest are very calming, but not too much to overwhelm you to where you can't sleep at night.
Our stay was short with no preparation so we wanted to make the most of it. Everyone working at Nicolas was extremely nice and gave us just about every bit of information we could ask for about Queposand Manuel Antonio. We spent a day at Manuel Antonio and went down to the local beach, Playa Espidilla, twice. Keep in mind, depending on how you get to this beach, you may need a 4-wheel drive vehicle. We choose the tough path on the northwestern part of the beach, which was extremely rewarding once we got there.
Tip: Supposedly at Playa Espadilla, if you get there early enough in the morning, you can see crocodiles walking out to sea to catch some food and take it back up to the river/swampy areas. We didn't get up early enough to see this, but heard from multiple people about it.
We would highly recommend staying at Hotel Villas Nicolas when in the area. The price for what you get can't be beat and it's location to everything there is in the area is great.