Riu Republica is self-described as…. "Located on a heavenly beach, the Hotel Riu Republica – Adults Only is your perfect option for enjoying an unforgettable holiday in Punta Cana. This adults-only hotel on the Arena Gorda beach has free WiFi, a varied gastronomic offer and the best 24-hour All-Inclusive service." So, how does it stack up? Keep reading to find out.
Arrival – PUJ Airport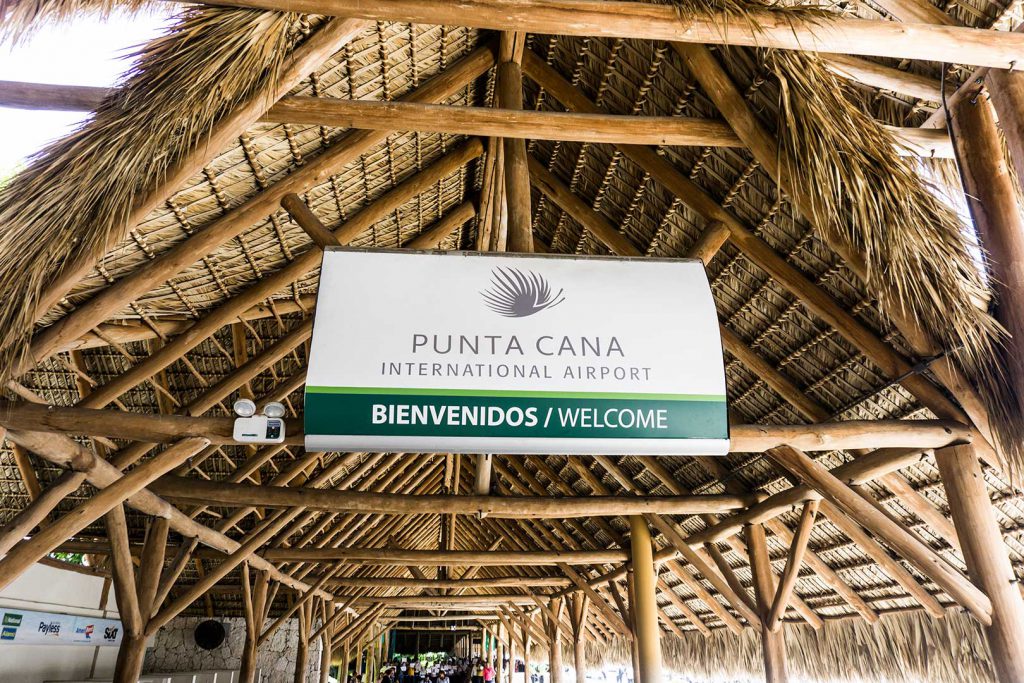 First, before you can get to Riu Republica, you have to get there from the airport. The airport at Punta Cana doesn't have walls or A/C so dress appropriately, because it's hot. Our trip through customs was no less than 2 full hours, though we've heard of some people getting through faster during odd times. Our arrival was mid-day. So, expect long wait times in lines. There are reports of having to pay a $10 fee to enter the country and $20 to leave, but that was done away with this year and the fees are included in your flight going forward.
Transfer to Riu
Our first recommendation is to get a private transfer to the resort. We opted for a shared shuttle and very much regretted it. Riu Republica is the 2nd further resort from the airport, with the Hard Rock being the only one further, so you will be the last stop. Our shuttle "tour" took just over an hour to get to the hotel.
Check-In
Checking in at Riu was fairly painless, minus a bit of a wait. Again, the check-in area is an open building without walls, so dress appropriately. Rooms are already determined before you get there, so there isn't much of a chance of changing your room unless you're willing to wait a bit longer. The RIU is sectioned into two distinct areas, commonly referred to as the "old" section and the "new" section. Don't let this fool you as the difference in their age is less than a year. The newer section is further from the water and where most of the partying takes place. It's also where the water slides are. The older section is regarded as the quiet section and closer to the beach.
Continuing with the check-in, once you're given your document indicating your room number and wifi information, you're on your own. You can find a bell boy to help with the bags, but the help ends there. Finding your room is up to you, so make sure you get specific directions before leaving. There are more than 1,300 rooms at this resort, and while the layout is simple, it's easy to get lost finding your room. We found our room to be in the old/party section facing outwards towards Hard Rock/swamps on the first floor. My first thought was that we had one of the worst rooms possible, but that attitude changed over time, which I'll explain why later.
The Room
There are only three room types at Riu Republica, the base room, which is either facing outwards or towards the center of the resort, the Ocean View, which is the same room but faces the beach (even though it's still 100 yards away) and the Suite, which is truly the only room upgrade you can get. For $36/day you can upgrade to an Ocean View, or $100/day for a suite. The rooms are basic as best with the only notable feature being the liquor bar included. With all the bars around though we never even used the liquor. They will only refill these bottles every other day and they only fill them half way, so don't count on them being your only source of liquor.
The rooms have all the basic necessities, including a hair dryer, safe, 20 or so hangers in the closet and even a ceiling fan. The Shower has an opaque window that lets whoever is in the room somewhat make out who's in the shower. Note, the toilet paper is akin to a very thin card board. If you have a sensitive bum, you may want to bring some of your own. There is also only one power outlet in the room and two in the bathroom, so bring a splitter if you want to be able to charge up more than one item at a time. The power is 110v, US adapter style.
TIP: In order for the electricity to work in the room, you have to put a room key in a special slot. If you want it to work after you leave the room, you have to keep it in there. Bring a spare card that you can leave behind and you can keep your devices charging while gone.
The Food
The food at the Riu Republica left a lot to be desired, at least for us, based on our previous experience. Get ready for a lot of buffets. There is a buffet in both sections of the hotel with the one in the older section being twice as large as the newer one. The food is the same, so it doesn't really matter which one you eat at. This is your only option for breakfast and lunch and the hours are limited. When we originally arrived at the hotel, lunch was just finishing up so we were unable to eat for another 3 hours at dinner time. There are a couple other small options so let's get into those.
Jerk Chicken Stand – By the beach is a small stand that you can get jerk chicken from. It's open most of the day, but they only really have chicken, burgers and hot dogs. The chicken is really good though and they will wrap it up for you to take back to your room
TIP: Bring Tupperware with you to fill with extra food. It will come in handy when the restaurants are closed.
The Sports Bar – This place is open 24/7 and has some limited food options. They have a very of a hot dog that I don't recommend. They're very rubbery and hard to eat. They also have cold burgers and sandwiches that can be heated up. The last item available here is chips and queso, though 4 out of 5 times we tried to get some, the queso was all over the place and there was actually none left. This area was never clean or even close to it.
Room Service – Nope, there is none. This is a huge disappointment and I don't believe any hotel/resort should be allowed to claim that they're 5 stars without offering room service.
Dinner – Dinner is served from 6:30 – 9:00, and you have your choice of 7 restaurants in addition to the buffets. Get there early to eat without issues. They don't have that much seating and if they're full, you'll be put on a waiting list and given a pager. Most of the time, wait times were around 30 minutes, minus the steak house which was much worse. These are all optional, but worth trying if you want something other than the usual buffet.
Asian restaurant (buffet)
Italian restaurant (buffet)
Two "Kulinarium" restaurants (à la carte)
Indian restaurant (buffet)
Spanish restaurant (à la carte, buffet starters and dessert)
Steakhouse (à la carte) – Get here before 6:30 if you want a seat. Otherwise, wait times can be up to 2 hours or you simply won't get in.
Romantic open air dinner (reservations required, additional charge) – Dinner on the beach. $150 USD.
The bars
All bars at the Riu Republica have the same options providing you with a basic white and red wine, standard liquors (no top shelf) and a bubbly white that they call champagne (only 7%). One of the local favorites is Mamajuana, which is often referred to as the "baby maker". Be careful with this drink and take it easy, it is very potent. Fortunately, you're never too far from a bar with pool bars, a sports bar, lobby bar and even a hidden one on the north side of the beach. This bar, Coco's, was our favorite as there was never a wait here, and it was on the beach. Most people never even know this bar exists and we heard from people over and over again that they didn't realize it was there until their last day.
Another secret that most people don't realize is that on the north side of the resort there is a small road that connects the "new" side of the resort with the beach. During the day, there is a 10 person golf cart that goes back and forth saving you from a 10 minute walk. Here's where our room location came in very handy. The stop for the transfer was right outside of our room and we utilized this multiple times a day. We got to be where all the action was in the back half, but could get to the beach faster than even the closest rooms on the old side. Even better, the stop by the beach stops at Coco's bar!
Entertainment
Ok, so the entertainment is pretty tough. If you want to party hard, spring break style, then there is plenty of entertainment for you including foam parties, twerking contests, sliding on the marble bar and the beach party. The other side of the entertainment, mainly the shows that are put on are half as good as what you could expect from a cruise ship. The show time for us was really a time to relax, catch up on rest and talk to friends.
The pools
There are a lot of pools at the Riu Republica. 3 of them have swim up bars and all the pools range from quiet to party central. There is literally a pool for everyone, except kids of course. No matter how you're feeling you can find the right pool and enjoy it. There never seems to be an issue finding chairs or people to meet either.
The Beach
Let's be honest, this is why you want to go to Punta Cana. The beach is beautiful, the sand white, the water clear blue. Riu Republica takes great care of the beach in front of the resort and it shows. The amount of beach isn't quite a much as you'd hope for with a resort this size, but they make up for it by building a huge berm 100 feet back from the water. You can be out in the full sun, under shade, or under palm trees, it's your choice.
The second night we were there, seaweed washed up from the sea. I had walked out early in the morning to find huge holes being dug by the workers every 20 feet or so. They took all the seaweed, buried it and filled the holes before the crowds arrived. I don't see any way this beach will be washing away anytime soon as a result. There are a lot of people crammed in to such a small area, but you can walk for a mile in either direction as the beach just goes on and on. To the north there is only one other resort, then the beach is empty. If you want to be alone, it's no further than a 15 minute walk.
Other things to note
There is a gym and outdoor exercise area, though we didn't partake. The same goes for a spa, including massages on the beach, though Riu claims it is run by a third-party company and they can't give much information about it. We saw plenty of people in the gym, but the spa seemed oddly empty at all times.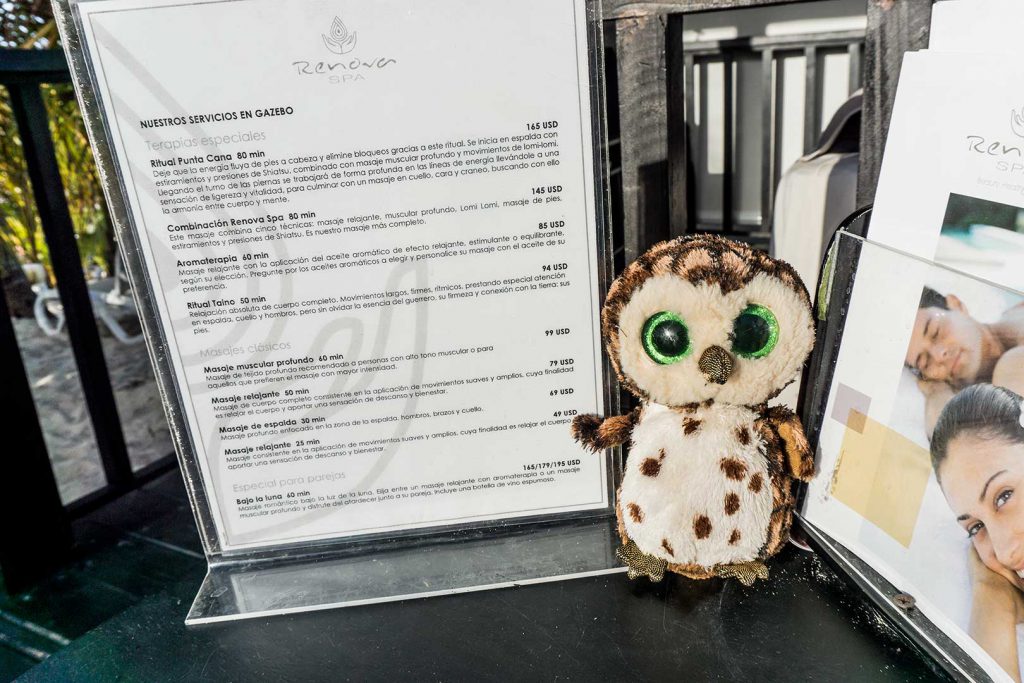 The best part of Riu Republica were the people we met and friends we made. You could be off to yourselves and never talk to another person, or you could go home with 50 new friends. Making friends isn't tough as everyone was very nice and finding like minded people is really easy. Overall, we believe Riu Republica is a 3-3.5 star resort. Reviews of this resort are all over the place and we can see why. This could be exactly the place you're looking for, or exactly the opposite. Hopefully we've given you enough information to figure out that decision for yourself though. If you wish to know more, feel free to contact us or leave a comment below. More pictures and video are posted on our Instagram feed as well.
As always you can find more pictures over on our feed in Instagram. Follow us to get all of our updates.